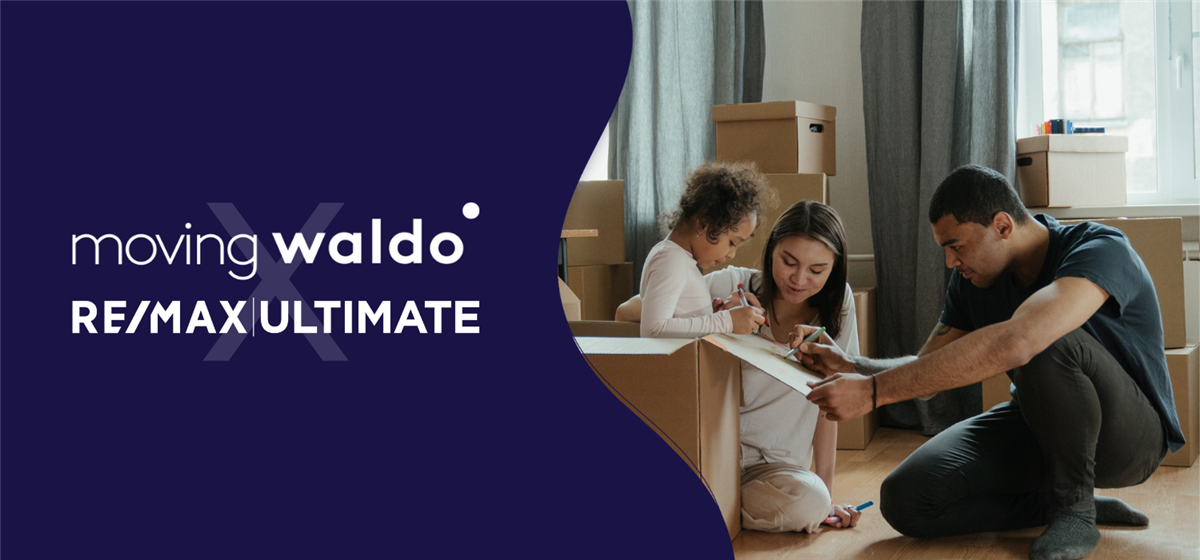 A Toronto RE/MAX brokerage owned by the former president of the Toronto Regional Real Estate Board (TRREB) has partnered with the #1 moving app in Canada. Tim Syrianos of RE/MAX Ultimate Realty said that the partnership with MovingWaldo Inc. will provide moving concierge services to his 235 brokers and their customers.
"We've always had a reputation to embrace technology and different platforms that could benefit not just REALTORs but ultimately our consumers. If this is another opportunity to provide value in a way that could help them have a smooth moving process, then we'll definitely embrace it," he said.
MovingWaldo all started with a simple question: "Why is moving so arduous?" There is always a new chapter or an exciting adventure behind a move: a new job, a recent graduation, the beginning of a retirement, a growing family… Yet, 6 out of 10 people consider moving as one of the most stressful life events there is. By alleviating all of the bad aspects of the moving process, MovingWaldo allows people to have a more pleasant, efficient and organized experience.
Each year MovingWaldo guides millions of families through each step of their moving process, helping them save time and money, and making sure nothing gets left behind.
Helping Ultimate Clients Every Step of the Way


It doesn't make it any easier that one of the greatest transactions of one's life is also a tremendously stressful and confusing process. However, ⅓ people say that they managed their stress by getting organized, which can non-negotiably be supported by any agent of RE/MAX Ultimate's leading team of real estate professionals. This partnership, exclusively offered to Ultimate clients alongside the assistance of our client-centric Ultimate agents, will serve as an asset by presenting top-of-the-line guidance to walk movers throughout each and every step of the process. This platform allows Ultimate clients to deal with the most important parts of their move without getting distracted or overwhelmed, to make the experience and transition as smooth as possible. This moving concierge service entails locating trustworthy vendors and resources, as well as providing guidance and direction with tasks such as finding the best local mover or long-distance mover, changing the client's address, internet service providers, finding new insurances for their home, and everything in between. As soon as an Ultimate client decides to move home, a moving concierge is the ultimate tool in helping them, from beginning to end. Ultimately, this is a network where professionalism meets modern technology.
Helping Ultimate Clients Save
Everyone loves a service that thoroughly does the job while saving money, and that's exactly what MovingWaldo offers! Ultimate clients will have access to the best deals, including discounts and coupon codes for all affiliated services and resources. This platform also offers the ability to compare lots of different services such as movers, insurances, and internet plans, allowing Ultimate clients to make well-informed decisions when they choose which service provider to select. It's not just about getting the best price; it's about getting the best service and value for money which will ultimately save Ultimate clients money in the long run.
In addition to the monetary savings, providing a moving concierge service means that Ultimate clients have centralizatalized access to multiple service providers through one outlet, thus, accomplished saved time. MovingWaldo offers all services from seeking quotes to informing over 1000 Canadian organizations of home address changes, all from the convenience of one platform. Ultimate clients will also alleviate the confusion that can exacerbate the process since the service will be the destination for answers to any questions related to the move, reliably and quickly.

MovingWaldo simplifies the complex and multi-faceted moving process to achieve the most stress-free move possible. Leaving the stress factor out of a traditionally stressful process will be a tremendous asset for Ultimate Agents and will set us apart in the industry. Between the leadership of Ultimate Agents and this partnership with Moving Waldo, Ultimate Clients will undoubtedly be well looked after and have utmost professionalism to turn to at any point, and ultimately reiterates our motto: International Brand, Boutique Approach.
Read all about MovingWaldo here.